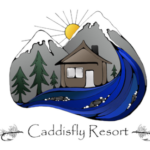 New "Regulars" at the Caddisfly Resort
We are just home from our wonderful first stay at The Caddisfly Resort. Our weekend far exceeded our expectations. We were greeted by Robert when we arrived who welcomed us and warned us that we won't ever want to leave. He was right. Robert had the A/C cooling our cottages when we arrived and even went and reserved a nice long table for our groups dinner that evening, Above and Beyond!! Next door to the property is a fantastic market which includes a restaurant and live music on the weekends. What a great time. He shared his tips for fun things for us to explore over our stay. We hiked, rafted, relaxed, played games, and relaxed some more. The cottages are cozy and clean and have all the basics of what you'll need for your stay. Robert even made sure we had wood for our campfire by the riverside. What a guy. We have already saved our dates for our next stay at the Caddisfly! Thank you Robert!!
Absolutely Stunning
Absolutely stunning and well kept property on the McKenzie River. We opted for renting one of Caddisfly's cottages because the Airbnb's in the area were more expensive, without the amenities. We enjoyed having our coffee on the deck and watching the guided water rafting zooming by waving at us and having a great time. We stayed the weekend for a wedding at popular Laloma Lodge.Doris was incredibly helpful, welcoming and accommodating. Thank you for the lovelyl weekend and sharing yourr treasure of a place. The bonus is the McKenzie General Store and Obsidian Grill are a 2 minute walk away. We enjoyed a featured author's presentation on their back patio going over all the trails he's hiked and written about in Oregon. Thank you again for hosting and giving us an opportunity of staying more than comfortable in this beautiful part of Oregon.
Please Leave a Review of Your Stay
Located in the beautiful Cascade Mountains, at the gateway to the Willamette National Forest and the Three Sisters Wilderness area, the Caddisfly Resort has always been owned by the Lauer family who developed it in the 1950's. Now it is the second and third generation operating it.
The Caddisfly has 3 charming redwood cottages along the McKenzie River. All of the cottages have been modernized with a warm,cozy atmosphere and have wonderful views of the river. They have fully equipped kitchens, fireplaces, cable TV and large windows and decks. All cabins have Wi-Fi internet access. Linens and towels are provided.
Weather is mild year round so the Caddisfly is an excellent place to come summer or winter.
Caddisfly Resort
56404 McKenzie Hwy
McKenzie Bridge, OR 97413
Ph: (541) 822-3556
Caddisfly Resort – Copyright 2018