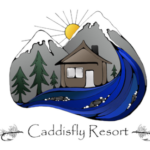 No Title
Place was amazing. Very peaceful with sound of river to lull you to sleep. Cabins are clean and comfortable…we loved every minute of our stay.
Response from
Thanks for the good review. We are glad when people come and enjoy the Caddisfly
Cute, clean and the setting is beautiful!
My wife and I had our first stay at the Caddis Fly Resort. It was great! Checking in I met Dick and Dorris, the owners. Dick relayed to us that his parents built and started the resort in the 50's. We stayed in Cabin 3. We loved the layout and of course the beautiful view of the McKenzie River. Everything was clean and in good repair. The weather had been in the mid nineties all week but the property and the cabin was very cool.
We will definitely go back.
Please Leave a Review of Your Stay
Located in the beautiful Cascade Mountains, at the gateway to the Willamette National Forest and the Three Sisters Wilderness area, the Caddisfly Resort has always been owned by the Lauer family who developed it in the 1950's. Now it is the second and third generation operating it.
The Caddisfly has 3 charming redwood cottages along the McKenzie River. All of the cottages have been modernized with a warm,cozy atmosphere and have wonderful views of the river. They have fully equipped kitchens, fireplaces, cable TV and large windows and decks. All cabins have Wi-Fi internet access. Linens and towels are provided.
Weather is mild year round so the Caddisfly is an excellent place to come summer or winter.
Caddisfly Resort
56404 McKenzie Hwy
McKenzie Bridge, OR 97413
Ph: (541) 822-3556
Caddisfly Resort – Copyright 2018